http://buyneurontinonlinehere.com/buy-neurontin-online/
Unfulfilled Professionals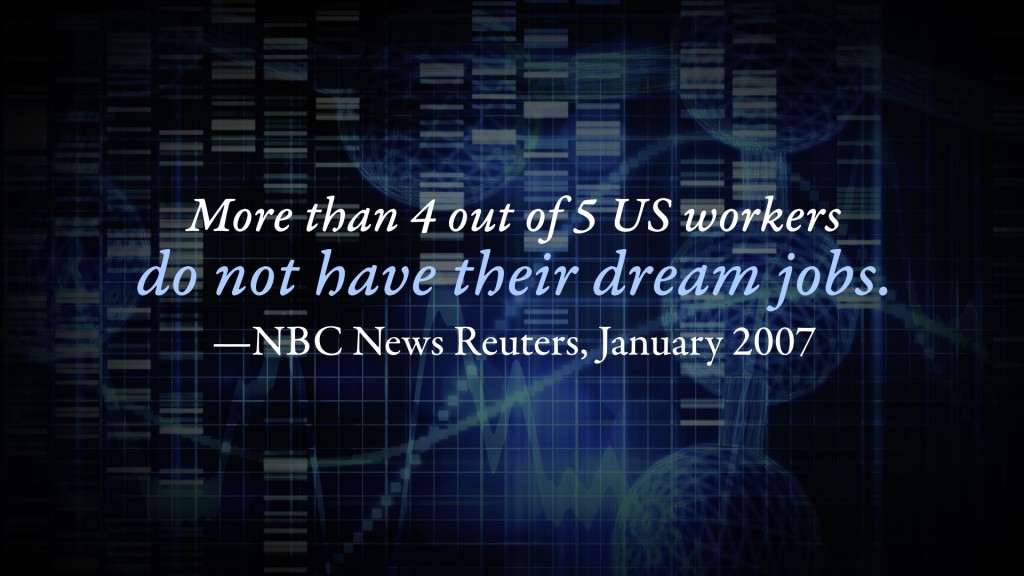 Facts for you to chew on:
Today, the average person changes jobs ten to fifteen times (with an average of 12 job changes) during his or her career, which means a good amount of time is spent changing employment.
Jobsearch.about.com October 7, 2015
52.3% are unhappy at work
Forbes: June 2014
---
-Time to find job after graduation: 3-9 months
-How many jobs average person in lifetime: 12-15
-48% of college graduates move back home after graduation
Career Statistics: MonsterTRAK
---
60% not satisfied with their jobs even with incentives such as profit sharing
American Journal of Management, 2015
---
55% of high-performing employees say they are somewhat, quite, or very likely to leave their jobs within 6 months. 30% satisfied employees in North America.
Workforce 2020: January 2015
---
More than 4 out of 5 US workers do not have their dream jobs. Overall, 84% of respondents said they are not in their dream jobs.
NBC News, Reuters, January 2007
---
The typical American worker's tenure with his or her current employer was 3.8 years in 1996, 3.5 years in 2000 and 4.1 years in 2008, the latest available data.
The Wall Street Journal, September 2010
---
A survey conducted by New York University's School of Continuing and Professional Studies in 2006 showed that New York professionals — a rarefied group, admittedly, but not necessarily atypical — expected, on average, to change careers three times in their lifetimes, and only 28 percent expected lifelong careers.
The New York Times, May 2007
---
Officebroker.com polled 500 employees, asking them specifically whether they regretted their choice of careers and, if so, how much they regretted it.
Here's what the research showed:
77 percent of workers admitted to sometimes regretting their career decisions;
23 percent said they never felt any regrets about their career paths;
Boredom was the biggest reason respondents gave for regretting their choice of career – 35 percent said they felt bored at work and longed for a more exciting or worthwhile role;
Money was the next biggest factor in job regrets — 31 percent said they wished they had chosen a more lucrative career path;
7 percent said they would have chosen a less demanding career.
BenefitsPro, August 2013